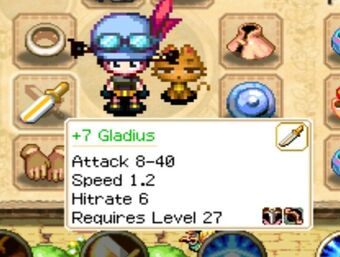 ==wooooooootsssssssssssssssss==
I finally got my Gladius!!!! ^^
So happy about this rather than my own paperwork =="
Anyway, is tht status okay? I was thinking of getting the one with hitrate 8 but...........i don't have enough $$... ( ; __ : )
So...urm...-awkward smile-  see u guys in the game..? ==" 
Bye bye @_@
Regards, 
Fayth. 
Ad blocker interference detected!
Wikia is a free-to-use site that makes money from advertising. We have a modified experience for viewers using ad blockers

Wikia is not accessible if you've made further modifications. Remove the custom ad blocker rule(s) and the page will load as expected.